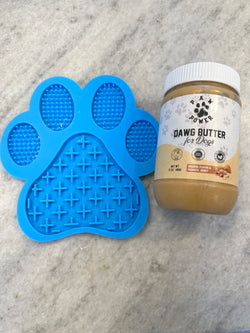 Paw Power Nutrition
The Dawg Butter + Lick Mat Bundle
Get a jar of Original Dawg Butter + Lick Mat and save 20% off 
Safe and delicious. Xylitol free. Gluten-free. We start with the highest quality, non-GMO, unsalted peanuts (much lower sodium than human PB). They are roasted to perfection then we add all-natural honey. Simple, quality ingredients with nothing added so you know it's safe to give to your best friend. Dogs drool over the delicious taste, they will come running when they hear the jar open. 
A lick mat is a perfect use with Dawg Butter. Licking can help ease dogs anxiety, soothe them and keep their mind occupied.
✅ Unique design - attract your pet's attention at bath or any other time, slow down your pet's eating speed and help ease your
pet's anxiety.
✅ Easy to use - This paw-shaped lick mat is designed to be user-friendly. The suction cup on the back allows you to stick it tightly to
the bathtub, shower wall, tile, or any smooth surface.
✅  Pets can easily focus on eating any delicacy while they enjoy a simple bath.
✅ Easy to Clean - You can wash Dawg Butter or other snacks by hand with soapy water or in the dishwasher.
✅ Safe for Your Pet - This mat is made of 100% food-grade silicone - a durable and safe material that will not affect your pet's
health.
***color may vary